Data Center Support & Services
All-in-one Provider
According to Gartner, infrastructure strategies are changing with up to 85% expected to integrate on premises, co-location, cloud and edge delivery options by 2025. These shifts require different levels of expertise and PALCO has you covered with our comprehensive data center hardware solutions. Our team handles everything from equipment procurement, rack build/integration, and configuration to shipping, delivery, and onsite deployment. We are also able to test and repair equipment, providing you with an all-in-one white glove service.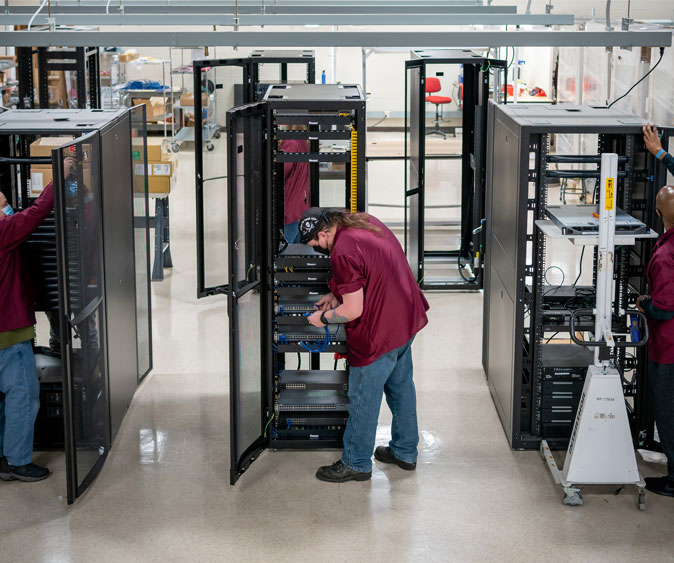 Uniquely Tailored Services
Our step-by-step process includes Project Scoping, Project Planning, Integration and Deployment—all performed by our skilled team of experts who will help customize your technology to your business and deploy at the perfect moment.
As supply chain issues continue to impact the technology hardware industries and lead time to receive new components continues to extend, PALCO plays an important role to fill the gap. We have expanded the product lines we service with more test beds to meet the demand for refurbished enterprise hardware. This saves our clients time, extends product lifecycles, reduces costs and provides options.
We can meet your needs whether you are building a brand new data center or upgrading existing facilities. Our clients choose us because we are responsive and get the job done on time and on budget. We incorporate the latest technology to configure optimal set-ups based on your unique requirements and handle ongoing maintenance or necessary repair.
Our Build to Print (BTP) model has proven to deliver a documented, cost-effective, and reliable solution, adhering to client work instructions down to the smallest details. Through this process, we are able to manufacture components and pieces of equipment with more accuracy and greater efficiency than our competitors. This ensures that your costs are managed, your end-user expectations are met, and your potential is unlimited.
Our Services Include
Project Management
Procurement
Configuration and Rack & Stack/Implementation
Global Logistics
On-site Deployment/Smart Hands
On-Site & Off-Site Technical Support and Troubleshooting
Complex Cable Configurations
Placement Device Management
Device Testing and Error Correction
Shipping and Receiving
Automated Maintenance
Setting Up and Maintaining Backups
Pack and Unpack
Inventory Management and Labeling
Moving Equipment
Operating System and Server Installation
Power Cycle
Audits
Customize & Deploy Your Technology with PALCO
Discover world-class support with PALCO. Learn more about choosing us as your data center services partner.