Sustainability & The Circular Economy
Sustainability Goals
Reverse logistics reduces a company's environmental impact by repairing, refurbishing and recycling electronics while increasing its profitability and asset utilization. At PALCO, we provide customized solutions to help our clients meet their sustainability goals to reduce waste, recycle products and repurpose components. We help clients track the metrics that are important to them to reach new levels of efficiency, cost reduction and energy reduction.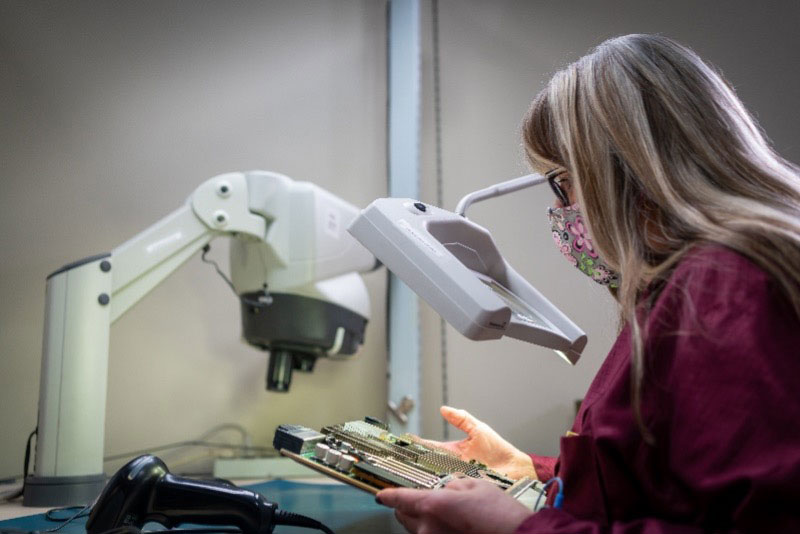 Our Commitment to the Environment
We believe in the tenets of a circular economy and are adopting these principles across PALCO to eliminate waste and pollution, circulate products and materials and regenerate nature. The circular economy is a systems solution framework that tackles global challenges like climate change, biodiversity loss, waste and pollution. Today consumers are throwing away more than 50 million tons of electronic and electric goods, worth over $62 billion every year, including rare earth minerals, gold and copper. We have made changes at our facilities replacing 2,894 light bulbs with LED alternatives reducing our energy consumption 79% from lighting. In addition, we have donated enough funds to the Arbor Day Foundation to replace our paper usage in 2021 by planting 85 trees. We also sent 173,653 pounds of remaining E-Scrap to our sustainably responsible recycling partner in 2021.
Our Process
PALCO is certified and compliant with HIPAA and EPA standards for electronics recycling. We manage asset disposal with multiple layers of verification to meet your specifications including:
Client assets are recorded for disposal verification
Check-in/check-out asset verification
Certificate of Destruction or Certificate of Compliant Recycling
Onsite client inventory removal and reporting